Past Tense Of Fly, Past Participle Form of Fly, V1 V2 V3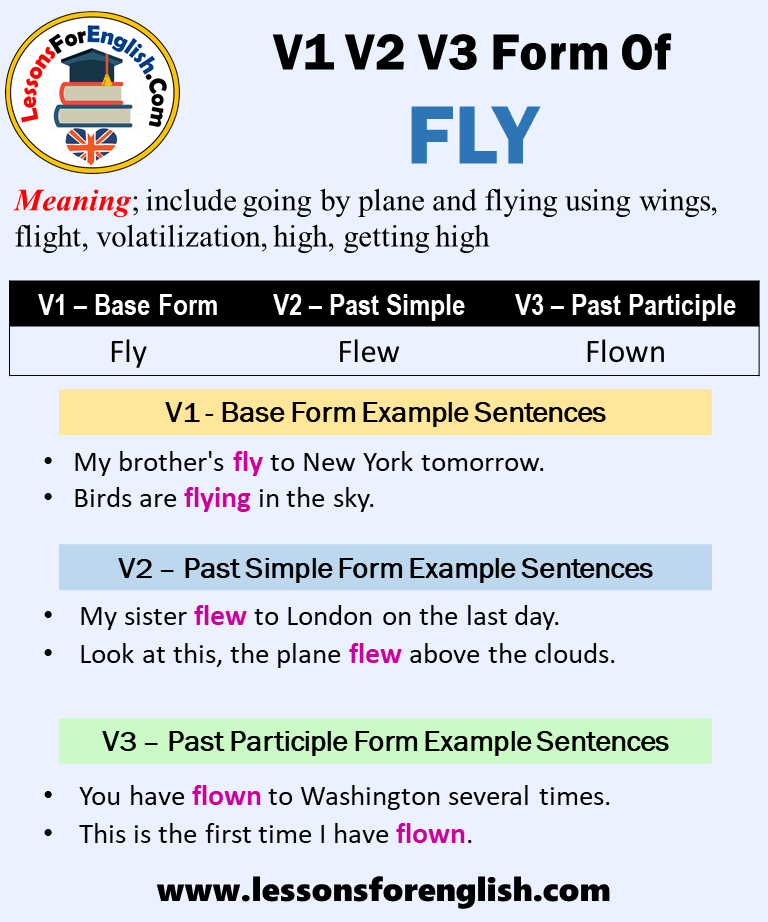 Past Tense of Fly
The verb ' fly ' is a verb that we often see in sentences. Also, it is a word that you will use a lot when talking and writing. For this reason, it is useful to know how to change it with different time forms when using it. We will also be giving you sample sentences with the use of V2 and V3 states.
Meaning
Some of its meanings include going by plane and flying using wings.
Base Form Examples
My brother's fly to New York tomorrow.
Birds are flying in the sky.
V2 Past Simple
When we talk about a past event, that is, Past Simple tense, we use the verb 'fly' with V2. The V2 form of the verb 'fly' is 'flew '. The verb 'fly' becomes V2 if Past Tense is mentioned in the sentence. Because it is one of the regular verbs, it gets the suffix '-ed' at the end of the word in V2. Each subject has the same use.





Examples
My sister flew to London on the last day.
Look at this, the plane flew above the clouds.
Verb + Preposition IN List in English
Verb + Preposition ABOUT List in English
Verb + Preposition FOR List in English
Verb + Preposition FROM List in English



V3 Past Participle
The V3 version of the verb 'fly' is known as 'flown'. The 'flown' form is used in the case of Past Perfect Tense or Present Perfect Tense. Of course, there are other uses.
Examples
You have flown to Washington several times.
This is the first time I have flown.
| | | |
| --- | --- | --- |
| V1Base Form | V2Simple Past | V3Past Participle |
| be | was, were | been |
| beat | beat | beaten |
| become | became | become |
| begin | began | begun |
| bend | bent | bent |
| bet | bet | bet |
| bid | bid | bid |
| bite | bit | bitten |
| break | broke | broken |
| bring | brought | brought |
| buy | bought | bought |
| catch | caught | caught |
| choose | chose | chosen |
| come | came | come |
| cost | cost | cost |
| cut | cut | cut |
| dig | dug | dug |
| do | did | done |
| draw | drew | drawn |
| drive | drove | driven |
| drink | drank | drunk |
| eat | ate | eaten |
| fall | fell | fallen |
| feel | felt | felt |
| fight | fought | fought |
| find | found | found |
| fly | flew | flown |
| forget | forgot | forgotten |
| forgive | forgave | forgiven |
| freeze | froze | frozen |
| give | gave | given |
| go | went | gone |
| grow | grew | grown |
| hang | hung | hung |
| have | had | had |
| hear | heard | heard |
| hide | hid | hidden |
| hit | hit | hit |
| hold | held | held |
| hurt | hurt | hurt |
| | | |
| --- | --- | --- |
| V1Base Form | V2Simple Past | V3Past Participle |
| keep | kept | kept |
| know | knew | known |
| lay | laid | laid |
| lead | led | led |
| leave | left | left |
| lend | lent | lent |
| lie | lay | lain |
| lose | lost | lost |
| make | made | made |
| mean | meant | meant |
| meet | met | met |
| pay | paid | paid |
| put | put | put |
| read | read | read |
| ride | rode | ridden |
| ring | rang | rung |
| rise | rose | risen |
| run | ran | run |
| say | said | said |
| see | saw | seen |
| sell | sold | sold |
| send | sent | sent |
| shut | shut | shut |
| sink | sank | sunk |
| sit | sat | sat |
| sleep | slept | slept |
| speak | spoke | spoken |
| spend | spent | spent |
| stand | stood | stood |
| stink | stank | stunk |
| swim | swam | swum |
| take | took | taken |
| teach | taught | taught |
| tear | tore | torn |
| tell | told | told |
| wake | woke | woken |
| wear | wore | worn |
| win | won | won |
| write | wrote | written |